As some of you know, the Jet Driver likes to spend a lot of time outdoors.
Oman's beautiful mountains and unexplored trails are some of the main reasons why I have stayed in this country for so long.
The place is simply stunning and one has no problem understanding why more and more people want to come and see this great land and meet its amazing inhabitants.
I use Google Earth quite a lot to scope out new trekking and biking routes in the region, and a few days ago, I selected an area where I thought I could find a decent trail to explore.
I found a new track just beyond Al Jiffnain village, and was curious as to what the 30 metre-long dark area was on the trail, and hoping it was some kind of old building or maybe a ruin of some sort, I biked out onto the trail with a friend.
At first, we had to negotiate a fairly dusty trail with a rock crusher that was going at full pelt, grinding out whatever was being thrown into it.
Then the trail cleared up into nice rolling hills - perfect for a challenging but not overly emotional bike ride.
Then the smell arrived. And we wondered what on earth had died there.
We have experienced the smell in the past when a goat or a fox has met its demise in a wadi, but this smell was incredible.
Noxious, acrid and after about two minutes of inhaling it - eye-wateringly nauseating.
We came over the ridge and were utterly astonished to find…. this:
An area had been leveled to make it flat, like a giant truck park.
Then someone had bulldozed an absolutely huge trench and filled it full of waste oil, sewage, rubbish, animal remains, plastic and chemicals.
There is also piles of rotten industrial waste neatly stacked all along the clearing, which we could not photograph because we risked getting seriously ill being in proximity to them.
And we were quite honestly overwhelmed by the damage that this cesspit is doing to the area.
As you can see from the photos below, it has already begun to seep into the water table.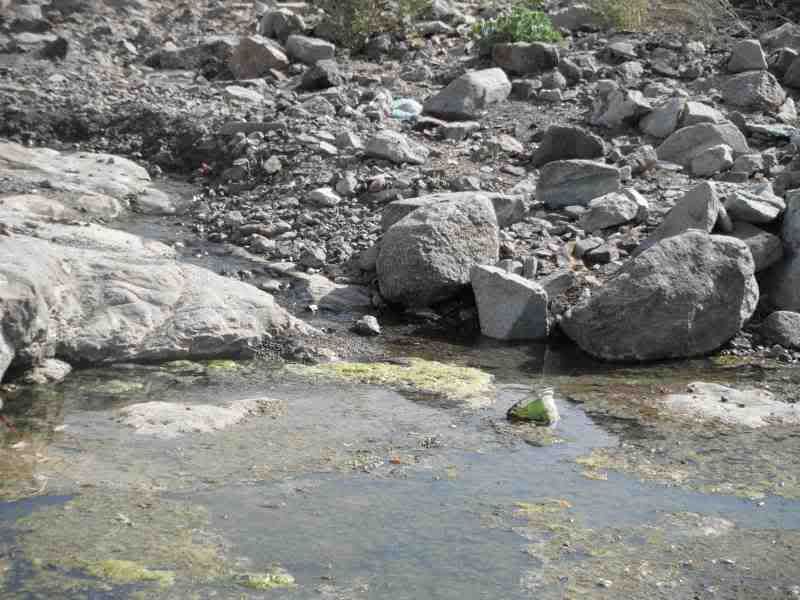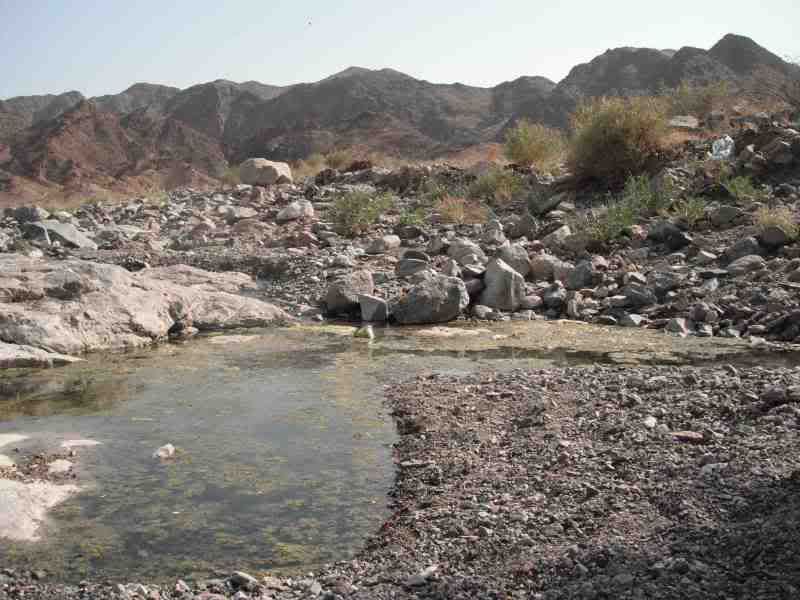 This was not an accidental depositing of hazardous industrial waste.
A group of individuals sat down in a board-room and had a meeting about this, and either through having no education, or more likely, a complete lack of care for the environment, regulations and the health of the local population, decided that it would be acceptable to just dump this stuff here and systematically destroy a beautiful area of land in Oman.
Who is responsible for this?
Was it the owner of the rock crusher?
Was it one of the quarrying companies that are digging around there?
Who were the decision-makers on the ground at the time?
Who sponsors this company's activities?
Was there an Environmental Impact Assessment done?
What were the pre and post EIA reports?
If an EIA was not done, then why not?
Do the local people know that their land is being polluted by hazardous waste?
Are local people drinking water off the land here?
Are they giving this water to their children?
This area is accessible by 4x4 and even by normal vehicles.
I urge anyone with an element of clout to go up there and have a look at what it going on.
Which Ministry looks after stuff like this?
The pool of waste is so big that it even shows up on a satellite map.
For those who are interested, here is the grid reference.
23°29'27.89"N 58° 8'56.80"E
Bang it into Google Earth and have a look.
It is a total and utter criminal disgrace.
Pass this on to everyone you know.
Omanis……. your country is slowly but surely getting wrecked by a small group of wealth-hungry people who want nothing more than to make money off the back of you.
Destroying your beautiful land in order to get rich and they think that dumping hazardous industrial waste off the beaten track will not be found out.
There are more and more expats who love exploring deep inside the jebels where locals tend not to go.
I am one of those explorers….and now that I know what these things look like on Google Earth, I'm off to start looking for more.
The Jet Driver is on a mission!